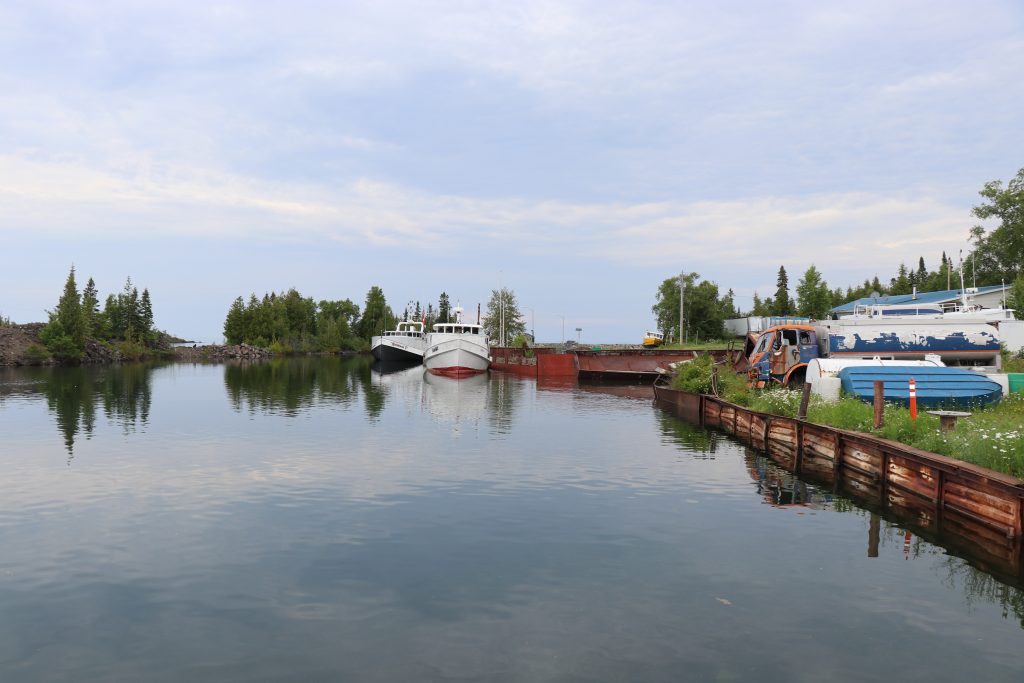 I had the opportunity of meeting with Dr. Kristen Lowitt and Dr. Charles Levkoe to discuss their involvement with a new network around Lake Superior called "The Lake Superior Living Labs Network". The network is composed of different projects or hubs around that lake that are based out of university. As of right now, there are three different hubs and a fourth one is on the way. Kirsten and Charles are part of the "Exploring Food and Fishery Systems in the Lake Superior Region".

The aim of the project is to connect sustainable fisheries to sustainable food systems. Their work began before the Living Labs Network but was essentially the birth of the network. Their work with the fisheries project required them to connect with people all around the lake. They have a big project in Batchewana Bay that made connections in Grand Portage, and Duluth. This project brought to light the limitations of working across borders and territories, and alose their importance. The fisheries project uses a watershed approach because fish, water, air, land, and ecosystems don't care about borders. The work they do requires them to build connections and the living labs network was born out of the recognition and need to be able to make links and connect people, places, and environments that aren't limited to a municipality.

The different hubs around the lake are all doing their own independent work, but the lab network recognizes the need that this hard work needs to be shared, this allows work to be recognized, collaborations to be made, and new projects to be developed. The hubs are a logistical way to create those partnerships and relationships.

The fisheries project started about 4 or 5 years ago from doing work around Lake Superior. Charles and Kirsten have published articles on different facets of fisheries such as one called "Where are the fish?" which covers topics such as the difficulty to purchase local fish, value changs for fisheries, the livelihood for fish harvesters, access to nutritious and culturally appropriate food sources in Thunder Bay. The two have started a project with a First Nations community doing partnership-based work regarding indigenous fisheries governance. The world on understanding more about their stories and the struggles the community faces such as fishing rights and food coverignty.
Moving forward, one thing they are interested in is learning more about initiatives broadly that are trying to link fisheries to different facets of food systems. Food systems are a way of connecting. Water health, water restoration and protection, fish health and fish stocks, and the livelihood of people are all components that are interconnected within a fisheries' food system. They are hoping to make connections across the breadth of ecosystems and social systems while simultaneously documenting them and sharing them on their website. They also have intentions to expand their work to other Great Lakes. Kirsten just moved to Kingston which is on the shore of Lake Ontario. She has begun making connections to groups on Lake Ontario such as non-profit organizations that are doing work around water and fisheries where she is learning more about the history of various types of commercial, recreation, and indigenous fisheries around Lake Ontario. The plan is to start work that connects ecologically sustainable fisheries with equity and human health while collaborating with partners in civil society, in government, and in indigenous communities. The hope is to broaden the scope of their work.
One topic that came up, was the barriers to eating commercially available fish from Lake Superior. The reasons for this are complex. Charles and Kirsten did a circle tour with this topic in mind. One of the reasons could be around management and regulations. Question such as, who can harvest? how many licenses are available? contribute to the barriers. Plus it's expensive for young people to start or to take over an enterprise when someone leaves. The way the quota system works, there are a lot of fish caught in Thunder Bay that are going to markets in the United States which also play a part in the dynamics. Then there is a cultural aspect. Do people feel connected to the lake? Do they feel that the fish are health and safe to eat? Do they know how to prepare whole fish? People also tend to prefer only eating certain species of fish, that may not be in high abundance or present in Lake Superior. Eat the Fish is one group in Thunder Bay that is working on making locally caught fish commercially available in Thunder Bay. They have been doing some work at the Thunder Bay farmer's market to introduce them to types of fish they haven't traditionally eaten. They do some recipes and taste testing and trying to get people back into eating fish and learning how to prepare it to encourage more consumption and build those food skills. At the end of the day, there are a lot of different pieces that come into play. One thing that Kirsten has been thinking about, is the fisheries decline and the abundance of fish and fisheries that used to present on Lake Ontario. Why aren't we concerned with this and why aren't we doing more to bring those fisheries back.
Dr. Charles Levkow brought up that point, that it isn't accurate to say that people aren't eating local fish. I think they are in a lot of different ways, there just aren't many commercially available options. When the two commenced their circle tour a couple of years back, they found that a lot of people were fishing. Batchewana First Nation, for example, is doing commercial and sustenance fishing and protecting their traditional ways of fishing. The pair found about 5 commercial fishers around Lake Superior, but the majority of their catch is going to the states. There are a lot of people fishing around the lake and it's a story that still needs to be told. Stories that connect to the bigger issues of connecting the environment, political economy, colonialism, and issues of racism are some stories that have emerged but have yet to be told.
We discussed threats to local fisheries. At first, I was narrowly focused on ecological impacts, but as Dr. Lowitt and Dr. Levkoe pointed out, is that the barriers to thriving local fisheries go far beyond ecological implications. Questions such as who can fish? and who should be fishing? What fish should be there for those people to fish? and questions about Indigenous rights around fisheries have not been adequately addressed. There is a strong need to recognize the rights of these groups that have been marginalized since the arrival of European settlers as well as the interconnection between fishing rights and the ecology of the lake. Ultimately, it comes down to decisions about whose voices are heard.
The next level to address the barriers and threats to local fisheries is to dive deeper and focus no just on who's involved, but also on who is driving those decisions. Since the time of colonialism, the answer to who is driving the decision is the government. There is no process for indigenous sovereignty on the lake. The tensions evolved between FN and the state really come down to the state having rules and FN are expected to fall in line. Indigenous people are being asked to sit at a table that has already been set with rules that have already been made. The Cheif from Batchewana Bay has said that they need to come and sit at our table and listen to their ways of fishing based on the seasons and traditional ways of knowing. When the government makes decisions, they ultimately rely on profitability.
The living labs network is working to partner with First Nations communities on projects to move forward on similar goals. The projects develop out of relationship building. As academics, they can provide the funding and grants and bring those resources that can support the work for the community to direct.
One unique outcome from their work with Batchewana First Nation is a documentary that is hoping to come out this year. The documentary evolved out of the project of working with the community. The Chief came up with the idea to capture the stories from the elders and the community. The film is for the community, but it's meant as a tool to share their stories with the outside world.